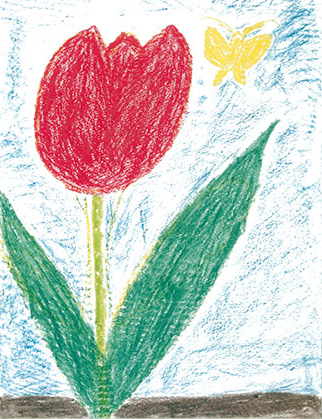 "Tulip" drawn by Rumi Tanaka, 7 years old, Excerpt from the documentary film 'Picture from a Hiroshima schoolyard"
In 1995, a parishioner of the All Souls Church in Washington, D.C., discovered a long-forgotten box containing 48 colorful drawings made by Japanese children from the Honkawa Elementary School in Hiroshima just two years after their city was destroyed. The surprisingly hopeful drawings were created and sent to the church nearly 50 years earlier in appreciation for much-needed school supplies received as part of the church's post-war humanitarian efforts.
The Honkawa school was just 1100 feet from ground zero on August 6, 1945. Nearly 400 children died in the schoolyard that fateful morning. Surviving students and teachers experienced great horror and difficult lives amidst the rubble of their decimated city. Classes resumed soon after in the windowless concrete shell of the remaining Honkawa school building to provide some sense of normalcy.
The rediscovered drawings were restored by members of the All Souls Church, who several years later embarked on an emotional journey to Japan to exhibit the artwork at the Honkawa school and reunite the surviving artists for the first time with the drawings they created as children.
These surprisingly joyful drawings show in brilliant colors the children's memories of better times and their hopes and dreams for the future. The inspiring story about an exchange of gifts between Americans and Japanese after a devastating war show us the power of reconciliation and the power of gift.