"Innovative publications on peace education"
Learn about our upcoming book
Mainstreaming peace education in educational systems worldwide is one of EGP's main goals. Building on this objective, we are currently conducting research on how peace education is being implemented in several countries. To provide a broad perspective, the analysis focuses on top-down and bottom-up efforts on this regard.
We hope that findings from the cases studied serve as valuable inputs for educators and practitioners of the field, as well as for decision-makers. The ultimate intention is that peace education efforts continue to be improved and adopted by many countries.
The research for this book will also be a basis for the creation of a Global Peace Education Index (GPEI) – rank state and societies (Institutions, schools and organizations) level of implementation of peace education in school systems in a yearly report. The metrics for the ranking will be developed in consultation with an international panel of peace education experts.
Some of the questions to be answered are:
How does a particular state define peace education (if there is such) and what are the major elements of peace education (in that particular country)?

Does the state have any institutional structures devoted to peace education?

Are there non-state actors initiatives on peace education?

What is the relationship between state (or any of its jurisdictions, institutions, or agencies) and non-state actors regarding peace education?

Are there any other challenges or actors in the society which are serving as hindrance to peace education?

What can be learned and what can be improved?
Handbook of Research on Promoting Peace Through Practice, Academia, and the Arts
Description:
Academic disciplines perceive tranquility and a sense of contentment differently among themselves and therefore contribute to peace-building initiatives differently. Peace is not merely a function of education or a tool that produces amicable systems, but rather a concept that educational contributions can help societies progress to a more peaceful existence.
The Handbook of Research on Promoting Peace Through Practice, Academia, and the Arts aims to provide readers with a concise overview of proactive positive peace models and practices to counter the overemphasis on merely ending wars as a solution. While approaching peace-building through multiple vantage points and academic fields such as the humanities, arts, social sciences, and theology, this valuable resource promotes peace-building as a cooperative effort. This publication is a vital reference work for humanitarian workers, leaders, educators, policymakers, academicians, undergraduate and graduate-level students, and researchers.
The many academic areas covered in this publication include, but are not limited to:
Boone-Kabul Project

Gendered Perspective of Peace

International Governance Systems

Peace Culture

Peace Education

Religious Peace

Science of Peace

Sustainability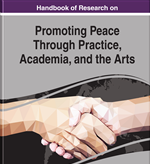 If you want to learn more about this project, do not hesitate to contact our project coordinator!
Michael Minch
Sadaf Taifur