"Discovering journey towards peacebuilding"
Everyone can have a say about peace. We are all diverse and the richness of this diversity makes our different experiences in peace, conflict and peacebuilding unique.
Through Our Global Village, we:
Empower every person to become peacebuilders in daily life. For this purpose, a creative platform hosting mixed-media sources such as short videos, documentaries, scripts, articles, poetry, and art will be the mean to communicate a wide variety of ideas about how we experience peace.
Support those who are in challenging situations and request help to deal with conflict transformation and violence prevention. Our Global Village is a supportive safe place with the capability to enable the best outcome for all parties involved.
Learn a way of unique creative expression to communicate concepts related to nonviolence, conflict resolution, transformation, and peacebuilding through a pedagogy of history and memory based on testimonies.
Our Global Village is a three steps journey that develops our potential to become peacebuilders helping us to learn from past experiences and thus prevent violence and promote conflict transformation: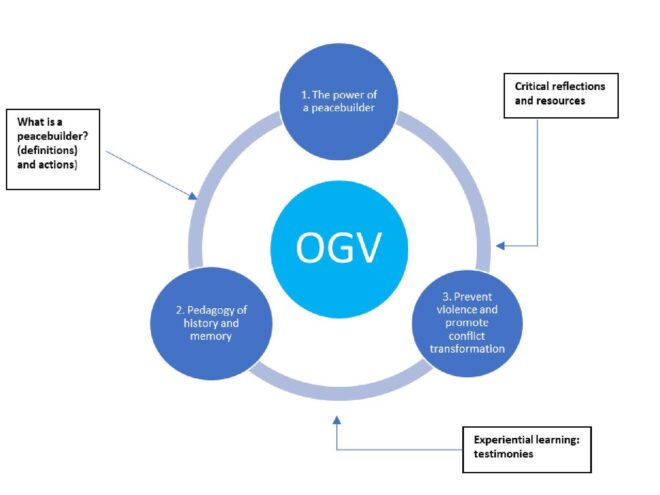 A peacebuilder is someone who acts with kindness and compassion towards others even in a hostile environment. Conflict is a part of everyday life and it does not need to lead to hostility or violence. Viewing conflict as a difference in opinions enables both parties to engage in an open dialogue and gain a richer perspective of this difference. This is what peacebuilders do.
A peacebuilder actively listens and uses nonviolent communication to de-escalate conflicts which may transform the problem into a workable solution. Peacebuilders who engage in the practices of mediation and conflict transformation demonstrate the ability to facilitate respect and understanding between people in challenging situations. Peacebuilders may also actively promote equality and social justice on behalf of voiceless people who are marginalised and/or discriminated against. They act in a revolutionary capacity for the greater good of others and may risk their personal safety in doing so.
Our Global Village encourages everyone to practice peacebuilding in our daily lives and thus to create a world where people deal with conflict in constructive ways that do not lead to violence. We can all become peacebuilders!
You may wish to use the template text below to share your own experience as a peacebuilder. You can do it through original artistic input such as poetry, articles, essays and works of art.
Imagine our world without…
Imagine our world with…
I want to be a peacebuilder \ maker because…
You can also add "My most successful life lesson related to peace"
You could also use a video input, if so, please record a 1-3 minute video of yourself speaking on your peacebuilder experience. Your video will be placed on Our Global Village world map below.
Dear Teacher,
Our Global Village is a project undertaken by Education for Global Peace. Targeted at K - 12 students, Our Global Village is a creative platform that hosts short videos about how we practice peace in everyday life. Below is a description of the project, the outcomes we are measuring and some guidelines to help your class participate.
What is a pedagogy of history and memory?
The Pedagogy of history and memory refers to an approach of learning that brings out accounts of what happened in the past. As stated by Paul Ricoeur (Memory, History, Forgetting, 2004, p. 21) "we have nothing better than memory to signify that something has taken place, has occurred, has happened before we declare that we remember it".
This pedagogy will be based on testimonies from victims or witnesses of violence. It is a form of experiential learning that, as Ricoeur mentions, "constitutes the fundamental transitional structure between memory and history". Testimonies will help us to better understand the importance of bringing peace in one's daily life.
Testimonies as a pedagogical strategy
Testimonies have widely been used as a tool to bring the listener, reader or viewer closer to the issue at hand. They help to connect the imagination to reality thus impacting on the attitudes and actions of the audience.
Our Global Village project has also come up with this tool as a means of peace education. In anticipation that the reader, listener, or viewer will have a changed attitude towards peace and violent conflict. It will help to positively affect the actions and attitudes of the audience judging from narrations of eyewitnesses and victims.
To start with, the project shows casing testimonies of three categories from Uganda: Students testimonies on strikes, 1979 eyewitnesses and wrong accused victims. In the near future, we hope to include many other testimonies in that line from all over the world.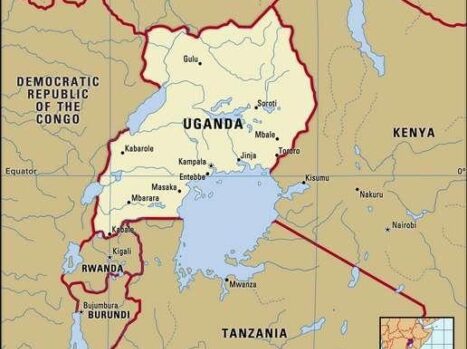 Map by: Encyclopædia Britannica, Inc.
Uganda is a country in the Great lakes region of Africa, in East Africa neighboring Democratic Republic of Congo (DRC) in the West, Kenya in the East, South Sudan – a recently created country in the North, Tanzania in the South and Rwanda in the South. It has a population of 41.6 million people (According Uganda Bureau of Statistics July, 2020 report). Uganda's population is heterogeneous with many ethnic groups. According to the 2002 Uganda's Population Census, Ugandans were classified into 56 legally recognized ethnic groups. Each group is defined by its unique language and culture. Uganda is the largest refugee host country in Africa with more than 1.5 million refugees. These refugees come from DRC, South Sudan, Burundi, Rwanda, Somalia and Eritrea among other countries.
Uganda attained her Independence officially on 9th October, 1962 from the British and since then, it has had over 8 presidents. Some coming to power through military takeover while others through what may be termed as democratic elections. One of the most talked about military take over happened in 1979. This was a result of a liberation war where Ugandans in fear of Idi Amin who was the president then and his government went into exile and started a liberation struggle. With support from Tanzanian President, Julius Nyerere, they formed an army that fought Amin's government and took over power through what is now termed as 'the 1979 liberation war'.
Another widely talked about war is the Lord's Resistance Army (LRA war) that was led by Joseph Kony. This is the longest guerilla war fought in northern Uganda, causing a humanitarian crisis and other effects. Many people lost their lives, their property and some were put in IDP camps.
Its geographical position, cultural diversity and political history puts Uganda at risk of violence eruption of any form be it ethnical, civil or interstate.
Recently Uganda discovered oil in the Eastern Rift valley. This has paved a way for development as well as laid the foundation for conflict especially on revenue sharing and land conflict.

Considering these facts, 3 categories of communities can be targeted:
1979 Ugandan liberation war witnesses in western Uganda
Their testimonies will change their hearts and put in them a spirit of working towards peace and hate for war/violence. This can include tales of how war does not segregate, how even those that seemed to be on the side of fighters and ruling government were equally affected. This is a generation that is fading out and their testimonies can be lessons for young generations too. Western Uganda seems peaceful today on the outside but it's merely negative Peace.
School violence testimonies
Students who have witnessed violent strikes in their schools, narrating how the situation unfolded from the start until it turned violent and the impact it had on them individually, the school and community around. Explaining the lessons learnt on causes and prevention of such violence from happening again. Eventually, they turn into peace builders and whoever accesses their testimonies learns to be a peace builder by understanding the values of peace and practicing them.
Out of school youth testimonies
Youth engaged in several informal activities narrating their experiences when they were wrongly accused/blamed, punished or reputation damaged for something they never committed or took part in. This will help explain the result of not following values/principles of peaceful co-existence. It will turn these youth into peace builders and whoever accesses their testimonies too.
This section is in progress...
If you want to learn more about Our Global Village, do not hesitate to contact our project team!
Juan Felipe Carrillo Gáfaro and María Paula Unigarro
Edgar Buryahika
Gal Kleinman
Marie Nissanka